YOUR 18 HOLE ROUND INCLUDES
A SHOT AT $1,000!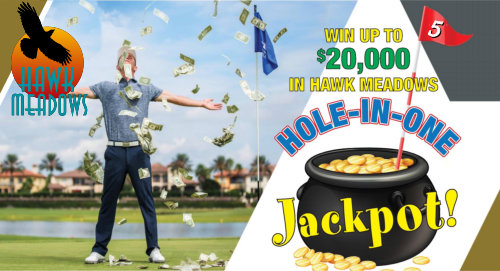 Want to Play for More?
$5 to win $10,000
$10 to win $20,000
Included in your 18 hole greens fee, you will shoot for a $1,000.00 prize with a hole in one at our Par 3 – Hole #5. If you are up to the challenge, you can increase your prize money to $10,000 or $20,000 for a nominal additional fee.

SWING KING
BE THE ONE
Powered by Digital Golf Technologies
MARCH 29th 2021 "HOLE IN ONE" JACKPOT WINNER!
Kelly Mergen won $1,000 in the Swing King Hole-in-One Contest by making an ace on #5 at Hawk Meadows
AUGUST 12th 2020 "HOLE IN ONE" JACKPOT WINNER!
Congratulations to Jerry Wilkinson of Bancroft Michigan. Jerry made a hole in one of the #5 to win $1,000 dollars!
Subject to the full Official Rules found onsite or at www.swingking.com/terms-and-conditions. Void where prohibited by law. Open only to amateur golfers who: (i) are at least eighteen (18) years old, (ii) have paid a valid contest entry fee; and (iii) have never earned a PGA Professional card nor ever been a Club Professional or Touring Professional. Entry fee and corresponding prize are as set forth at each participating golf course. Golfer must adhere to minimum yardage requirements on contest hole(s) as specified in the Official Rules, and (i) NO CLOSER THAN THE TEE MARKERS DESIGNATED FOR SUCH PARTICIPANT'S HANDICAP, AGE AND GENDER, and, (ii) IN ALL CASES MUST TEE-OFF BETWEEN THE TEE MARKERS IN THE TEE BOX THAT ARE LISTED ON THE SCORECARD AS NO CLOSER THAN 135 YARDS FROM THE HOLE FOR MEN, AND 120 YARDS FROM THE HOLE FOR WOMEN. VIDEO IS RECORDED AT APPLICABLE HOLES AND YOUR LIKENESS MAY BE RECORDED. Sponsor: Digital Golf Technologies, Inc., a Delaware corporation d/b/a Swing King ("Swing King"), 817 Kay Ave, Unit 3, Addison, IL 60101.